Cold Laser therapy is an advanced treatment that uses wavelengths of light to penetrate cells and accelerate recovery from pain and inflammation.  The mechanism behind this therapy is "Photobiomodulation". The light allows the energy producer of the cell, the mitochondria to release more ATP. This triggers many positive physiological responses allowing the body to heal quickly from and injury.
Cold Laser is safe and effective.
CONDITIONS TREATED:
Shoulder Pain
Knee Pain
Tendonitis
Bursitis
Plantar Fascitis
Carpal Tunnel
Tennis Elbow
Ligament Injury
Disc Bulge/Herniation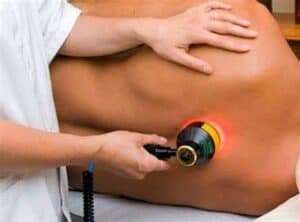 Benefits:
Tissue Repair
Improved Circulation
Reduced Inflammation
Pain Relief
Faster Recovery
Pain Relief:
Laser therapy stimulates repair of tissue, reduces inflammation and relieves pain in musculoskeletal disorders.
Increased Vascular Activity:
Laser light therapy induces temporary vasodilation increasing blood flow to damaged areas
Anti-Inflammatory Action:
Laser light reduces swelling caused by bruising or inflammation of joints to give enhance joint mobility
Faster Wound Healing:
Laser light stimulates fibroblast development and accelerates collagen synthesis in damaged tissue for faster recovery.
Nerve Regeneration:
Proliferation of growth factors promotes neuronal sprouting and myelin formation for optimal nerve recovery
Rapid Cell Growth:
Laser light accelerates cellular reproduction and growth to improve speed of healing time
WHAT TO EXPECT DURING TREATMENT:
Cold laser therapy is painless and effective treatment that lasts anywhere from 4-5 minutes.  The laser is placed over the site of injury for the duration and the light will begin to flash a red light.  We will put glasses on you to protect your eyes.
WHAT TO EXPECT AFTER TREATMENT:
Most patients will see a positive result after one to three treatments. Generally, it will take up to 10 treatment to experience the long term benefits.  Chronic conditions can sometimes take a little longer depending on the longevity and severity.