Broccoli Sprouts: Sulforaphane
Sulforphane supports the TH1 immune system, in particular the T cells.  This is particularly effective against viral pathogens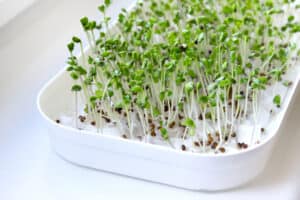 Benefits
Potent Antioxidant

Protects Against Cancer

Improves Brain Function

Improves Hearth Health

Reduces Inflammation

Boosts Immune Function
How To Grow Broccoli Sprouts
Step 1: Add 2 tbsp of seeds to each jar
Step 2: Add water to the seeds (about ½ inch covering bottom of jar)
Step 3: Turn jar upside down to drain the water
Step 4: Store jar in a dark space at room temperature (cupboard or closet)
                  *Important to keep jar upside down to let water continue to drain out. Put a paper towel under the jar to absorb the water and switch out each day.
Step 5: Rinse seeds 2-3 times per day (morning/night)
Step 6: After 3-4 days the sprouts should be grown to about 1 inch with yellowish leaves. At this point they need to be stored next to a window with light, so they can absorb sunlight and turn green. Continue to rinse 2-3 times per day and leave jar upside down.
Step 7: At day 6-7 the sprouts should be fully grown and ready. Dump the sprouts into a big bowl and fill the bowl with water. The sprouts will sink and the seeds will float to the top. Scoop all of the seeds out and drain the water. The sprouts can be bagged up and stored in the fridge or freezer for later use. Freezing the sprouts and adding them to a shake is recommended, as it increases the bioavailability and potential health benefits