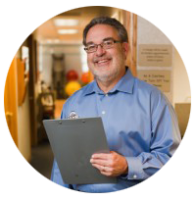 Dr. Michael Veselak's primary focus is to find the "root cause" of the patient's health concerns.  With nearly 4o years in practice he has learned that each person, although their symptoms might be similar, the reason "why" is always slightly different.  This fact alone is why each patient is treated on an individual basis, incorporating a Functional Medicine, or whole body approach.
Our success is based upon the fact that we analyze each patient from a metabolic, immune, neurological, genetic and musculoskeletal perspective.  Following a detailed history and comprehensive examination, the treatment plan is broken down into phases.  We provide recommendations and expectations anticipated with every phase.
There are some patients that have been not feeling well for a long time or they have been diagnosed with an autoimmune condition.  Education is a key component of our program.  It will help both of us achieve our goals together and have reasonable expectations with the outcomes.
We focus on diet and lifestyle changes that are easily implemented to ensure your success.  We will become your health coach helping you navigate this complex web.  Rest assured, we have a lot of experience guiding you through this as we have seen over 20,000 patients.
We are also accustomed to doing online health consults through telemedicine.  This has allowed us to work with individuals all over the world, providing our expertise to those in need.
FOUNDATION:
The cornerstone of good health is glucose and oxygen.  These are the biggest contributors to chronic disease and advanced aging.  If the patient is insulin resistant, type 2 diabetic or has anemia they are going to have inflammation.
This inflammation can cause numerous issues affecting many systems in the body.  It will affect the cardiovascular system, with cholesterol and LDL rising, low HDL, high blood pressure and possible clotting issues.
It will affect the nervous system, a leading cause of dementia and Alzheimer's as well as peripheral neuropathy.
The liver will also become involved, creating fatty liver and a less than optimum ability to detoxify.
The kidneys, eyes, pancreas and gut can also become involved.
Patients will have a much more difficult time improving if the foundation is not managed first.
PHASE ONE:
As we educate you how to properly stabilize your blood glucose, control your anemia and stabilize your autoimmunity, we begin to address gut symptoms and eliminate food antigens that can cause a leaky gut scenario.  There are various food protocols designed for certain conditions and we will discuss these with you at the time.
PHASE TWO:
The next steps coincide specifically with your symptoms.  It can include elimination of pathogens, bacteria, virus, mold or parasites.  Sometimes it is regulating the immune and adaptive immune systems.  Conditions like Mast Cell Activation syndrome occurs when the immune system becomes too hyper vigilant.  The goal is to calm down the inflammatory messengers or cytokines and to down regulate the histamine response.
Another very important component of treatment is balancing the sympathetic nervous system and the parasympathetic nervous system.  The sympathetic is "fight or flight",  and the parasympathetic is "rest and digest."  These are commonly out of balance in a lot of our patients.  We instruct you how to build up the Vagal tone to improved digestion, sleep and anxiety.
We will provide home exercises and therapies to help you succeed in this phase.
PHASE THREE
As you improve we will be educating you on how to continue to have success as well as how to manage your symptoms if a flare-up occurs.  We fine tune phase one and two with a closer look into your personal genetics.  Our intention is to diminish or eliminate the expression of these genes.
DISCOVERY CALL:
We offer a 10 minute complimentary consultation to determine if we are a good fit for each other.  The majority of our patients have been to several Doctors prior to beginning care in our office.  They are apprehensive about another approach.   The phone number is 805-482-0723 to schedule this call.
SERVICES:
Functional Medicine
Hyperbaric Oxygen Therapy
Neurofeedback
Infrared Therapy
PEMF
Cold Laser
Spinal Decompression